Thursday, October 15th is upon us…which means it's time for our Grand Opening OPEN HOUSE! We are looking forward to seeing many of you and have lots of fun things in store for you!
Coffee, apple cider and lemonade will be served, as well as an array of specialty cookies from Alexandria's very own Sugar Shack!
We are also pleased to announce the prizes we will be giving away throughout the day…Thank you so much to everyone who donated these awesome items!
*Blizzard Hockey Tickets (We've got 10 to give away!)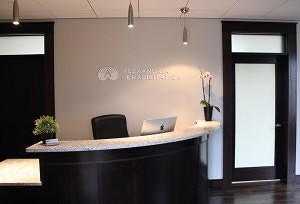 *$10 Gift Card to Pike & Pint (Yummy!)
*$10 off any hair service with Greta Rieland at Salon LaBelle, plus a free travel tote. (Yes, please!)
*An awesome Thirty-One tote donated by our very own Medical Receptionist! (You rock, Melissa!)
You don't need to be present to win, but you do need to stop in to enter your name in the drawing!
Amos will also be doing demonstrations on the hour. What better way to learn about what we do at an "upper extremity specialist" clinic than to see it first-hand? Feeling brave? Volunteer to be the one he does the demo on! Below you will see a few descriptions from Amos about what he will actually be doing for these demos on Thursday!
---
Demonstrations will include a treatment for arthritis of the hand, treatment and education for tendonitis of the elbow and custom splinting for thumb basal joint arthritis.
Treatment for arthritis of the hands is a delicate course of therapy. We utilize different heating modalities such as ultrasound, paraffin wax bath, and lasers to help relax, loosen, and heal the affected joints. I will then start with manual joint mobilization to work each individual arthritic joint to loosen and gain more flexibility and motion with less and less pain. Finally, a thorough explanation of a complete home program will be given, specific to the patient's individual needs. Home programs may include the use of heat modalities at home, maintenance exercises, and techniques to use to manipulate the arthritic joints yourself to decrease pain and improve motion.
Elbow tendonitis–either medial epicondylitis (golfer's elbow) or lateral epicondylitis (tennis elbow) is a common condition for a lot of people. Our demonstration will include a complete treatment with use of diagnostic techniques for what structures are involved, modalities of ultrasound and/or iontophoresis, manual cross tendon massage to the affected area, and a home program that may included specific splinting or bracing, correct stretching, and activity modification education that needs to be made in order to heal faster.
Custom splinting is a specialized technique that can work tremendously to your advantage. Casting is becoming out-dated and prefabricated braces off the shelf do not always fit and work correctly. Our demonstration will focus on the most common nagging issue that people have–thumb basal joint arthritis. This is the most common joint that is replaced in the hand due to the arthritic break-down in the joint. We will be making a custom splint that is lightweight, waterproof, supportive, and, most importantly, functional!
---
Are you a Blizzard Hockey fan? Check our Facebook page regularly between now and 2:00 pm on Thursday…we just might do a flash giveaway for our first 2 Blizzard tickets!
The following two tabs change content below.
Kendra is the Manager of Alex Rehab. She'd love to answer any questions about the clinic...shoot her an email at
[email protected]
!
Latest posts by Kendra Hartsell (see all)