When someone falls on his or her wrist traumatically or jams/twists their wrist severely, most individuals immediately seek medical treatment. Typically the first thought in our minds is: "Is it broken?" After medical treatment is sought and X-rays are done, the results come back negative. Relief, that nothing is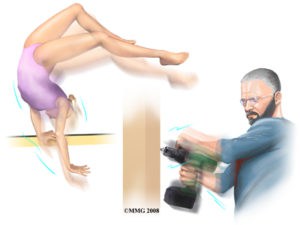 wrong, begins to calm our minds and anxiety. We head home and figure time will heal the trauma that was caused. In most cases this is correct; the wrist heals and we carry on with daily life. However, when a significant injury to the wrist–without a fracture–occurs, other damage may be done to the wrist mechanism and structures supporting the wrist. Pain may begin to linger with use of the wrist long after the proper healing time has passed. Certain movements of twisting or turning lead to sharp pain, weakness, or instability in the wrist. Wrist sprains can often involve a longer healing time and prolonged bracing if ligament damage is done to the wrist.
Here's why…
The wrist consists of eight small carpal bones and the distal ends of the two forearm bones. Many small ligaments that connect bone-to-bone support and stabilize this versatile joint. If a ligament is damaged, ruptured, or torn, it can lead to an off balance of how forces are applied in the wrist when weight bearing or using the wrist. This may cause pain and weakness. Every structure and bone in the wrist contributes to the stability and function of the joint. However, some structures have a greater effect on stability than others. Trauma to the wrist causes strain on these ligaments; often a bone is broken instead of ligament damage. When X-rays are normal, but pain persists with wrist use far beyond the time frame of healing, treatment should be sought to assess wrist stability and function.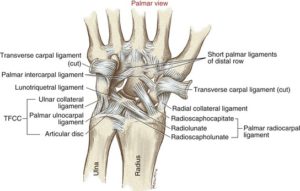 Ligament damage in the wrist may heal much slower than a fracture. One reason for this is that the ligaments may have a lower blood supply to that particular area and thus healing is delayed. Another reason, and a common one, is that individuals do not tend to brace or splint a joint unless there has been a fracture. They use the wrist like normal and the damaged ligament does not have time to heal due to the continued strain of daily use. This prolongs the healing process; individuals may not have pain at rest, but with certain movements that involve the support of the affected ligament they experience pain and possibly weakness. However, when a ligament is ruptured or torn, bracing may not help and the wrist may need to be surgically repaired.
Seeking treatment or an assessment is vitally important with prolonged wrist pain. Therapy by a Hand Therapy Specialist is typically the first step a referring provider takes. A skilled hand therapist can assess the wrist properly and identify which structures are involved or damaged. Not having a proper evaluation can lead to a treatment plan involving exercises that may increase pain or hinder the wrist from healing properly. Often bracing is needed to support the wrist in such a way to limit the amount of strain placed on a damaged ligament. A simple wrist brace off the shelf may not be enough. Custom fabricated splints by a hand therapist will ensure the most correct and effective support to allow the damaged ligaments to heal efficiently.
So, if you are experiencing prolonged nagging wrist pain from an injury that should have healed by now, seek out the best treatment from the skilled and experienced hand therapy specialist at Alexandria Rehabilitation.
The following two tabs change content below.
Amos is the owner and provider at Alexandria Rehabilitation. Amos has vast expertise in traumatic hand injury rehab as well as common repetitive work-related and general injuries.
Latest posts by Amos Hartsell (see all)