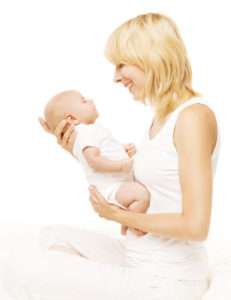 The Internet is flooded with information about caring for your new little one, but there's not a whole lot of information about caring for yourself. Most of the focus on healthcare after the birth of a new one is on the infant, and rightfully so. However, Mothers: DO NOT neglect the issues that arise with your arms and back that can accompany caring for a newborn. Here are some quick tips to help reduce the occurrences of wrist tendonitis, carpal tunnel issues and other arm issues.
Relax your grip on bottles when feeding
Keep wrist in a straight (neutral) position when holding your infant (use the scoop position)
Avoid stretching the thumb in an extended abducted position or "L" position
Relax your thumb if possible when holding your baby
Keep your baby's weight on larger joints and away from fingers and thumb
Use position pillows instead of holding your baby up with your hand/wrist when feeding
All of these can help reduce occurrences, but remember that your body has post-natal changes that make you more prone to possible issues. These changes include decreased strength and endurance, hormonal changes, fluid retention, and interrupted sleep patterns.
If you are noticing any pain in your hands or wrists, don't ignore it. These issues can be corrected before they turn into something more serious. Ask your doctor for a referral to Alexandria Rehabilitation so you can focus entirely on your new bundle of joy!
To read more about Mommy's Thumb, a common and painful condition that can occur with new moms, click here.
The following two tabs change content below.
Amos is the owner and provider at Alexandria Rehabilitation. Amos has vast expertise in traumatic hand injury rehab as well as common repetitive work-related and general injuries.
Latest posts by Amos Hartsell (see all)