Cozying up in a chair to read a good book; setting the table for a special holiday dinner; holding your new baby or grandchild…All of these special and enjoyable activities seem very simple, but for some these activities come with caution or hesitation. This pause for concern or shying away from some of the most enjoyable activities is caused by significant pain through the thumb, into the wrist, and up the forearm. Sound familiar to some of you?
Activities that are very often taken for granted can be the most challenging for people suffering from DeQuervain's Tenosynovitis, also known as Mommy's Thumb. Most of the general population does not recognize this term. However, they may recognize the symptoms of sharp pain in the wrist just below the thumb radiating into the forearm and thumb when pinching or bending the wrist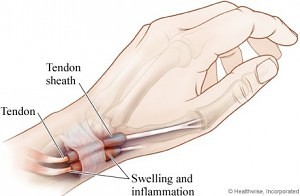 with daily activities. DeQuervain's Tenosynovitis is a painful condition that affects the tendons on the thumb side of your wrist. The cause of DeQuervain's is unknown, but repetitive activities that require pinching and bending the wrist such as racquet sports, gardening, or holding a baby can make it worse.
Inflammation and swelling from repetitive activities can become trapped in the tendon sheath of the two tendons that run from your thumb into your forearm. These two tendons are held down and in place with a compartment on the side of your wrist (this compartment keeps them from bowstringing). This is one of six compartments on the backside of the wrist. When swelling gets trapped and enlarges these tendons, the compartment becomes crowded and causes rubbing and pain through the wrist and ultimately up into the forearm. If this inflammation is not allowed to decrease and heal, it will progressively get worse and more frequent pain with activities will be the result.
Another approach to DeQuervain's is that the tendon sheaths for these two tendons start to thicken, causing the crowding and ultimately the pain and inflammation. There is evidence for both causes of DeQuervain's Tenosynovitis. If you are experiencing similar symptoms, a simple test for DeQuervain's is to tuck your thumb into your fingers in a fist, then in this position side bend or deviate your wrist toward your little finger side. If this causes significant pain, this is a positive sign for DeQuervain's. This is called Finkelstein's test.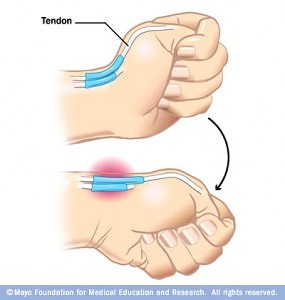 No matter the cause of DeQuervain's, it is very frustrating and debilitating to daily activities. Like most conditions affecting the hand and upper limb, this should not be ignored. With prompt and proper hand therapy, the pain can be decreased and you can get back to the activities you ultimately enjoy. When these symptoms are ignored for a long period of time, it can lead to chronic pain and possible scarring inside the area. This could lead to having an injection in the area, which may or may not help, or ultimately a surgery to release the compartment.
These lengthy and costly options can easily be avoided! If you are experiencing these symptoms, contact our specialized Hand Therapist today at 320.335.2515. Alexandria Rehabilitation is a specialty therapy clinic that focuses entirely on conditions that affect the hand, wrist and upper limb.
Common Symptoms of DeQuervain's Tenosynovitis:
Pain near the base of your thumb
Swelling near the base of your thumb
Difficulty moving your thumb and wrist when you're doing something that involves grasping or pinching
A "sticking" or "stop-and-go" sensation in your thumb when moving it
The following two tabs change content below.
Amos is the owner and provider at Alexandria Rehabilitation. Amos has vast expertise in traumatic hand injury rehab as well as common repetitive work-related and general injuries.
Latest posts by Amos Hartsell (see all)