"Sweet scar, man!"
"Oh, let me tell you about that scar…"
Every scar a person has tells some sort of story about their past. Some people try and hide them while others wear them as a badge of honor. Regardless of your sense of vanity when it comes to scars, the formation of scar tissue by the body is undeniably amazing. The ability of the body to heal and close a wound may seem simple, but the underlining cellular development is simply remarkable. I am not going to bore you with a lecture of the development of scar tissue in scientific terms. That's what textbooks are for. I am simply going to educate you on the challenges of dealing with scar tissue and the therapy treatment that can make a huge difference in the healing process.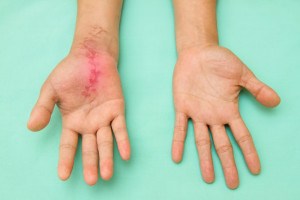 Regeneration and healing of the body from a surgery and/or an injury resulting in a skin tear leaves a person with scar tissue. Scar tissue formation is inevitable, whether it is visible on the surface of the skin or invisible beneath. A person's ability to heal and create scar tissue varies greatly from one individual to another. Scar development is a sign that the body is healing, but the formation of scar tissue can also become a hindrance or an obstacle to a person's recovery.
To understand what can be done–as far as therapy–for scar tissue we need to understand a little about the process of scarring. When a wound, cut, or incision from surgery occurs, scar tissue develops over the area as a part of the healing process. As most of us know, scar tissue usually feels denser than the normal tissue and is sometimes very sensitive. A simple explanation for this is that normal soft tissue or skin on the body has fibers that run in a nice pattern. Scar tissue has fibers that are best described as a haystack, with fibers developing and running in a different pattern than normal tissue. Sensitivity can develop from nerves being damaged or cut with a surgical procedure or other injury. Also, as scar tissue begins to form, adhesions to surrounding structures can develop. I describe this process to my patients as scar tissue "putting down roots" and grabbing onto surrounding structures. Adhesions can limit motion of joints especially in smaller joints in the hand and fingers. Adhesions and/or scar tissue can also form around muscles, tendons, or nerves causing pain with movement.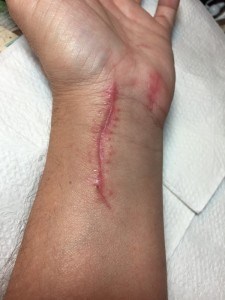 Therapy can help to either prevent these issues or aid in eliminating these problems that occur with scar tissue development.
Scar tissue, depending on the individual, typically develops early on after the wound or incision has closed or healed. During this early period of scar formation it is easier to remodel and manipulate the scar tissue to avoid any problems. To prevent adhesions, we can give proper tendon glides, nerve flossing, or muscle stretching techniques to avoid this issue. If an adhesion does form, our skilled therapist can do specific soft tissue mobilizing treatments to correct the issue. Our therapist also has vast experience with specific techniques desensitizing painful scars. At Alexandria Rehabilitation we utilize state of the art modality treatment using Ultrasound, LASER, and electrical stimulation to break down scar tissue and decrease sensitivity in the scar itself.
Whether you are dealing with a small scar from a carpal tunnel release incision or a larger, more involved scar from a traumatic incident, it is important to have a professional who understands scar development, remolding techniques, and desensitization treatments.
Trust Alexandria Rehabilitation for all your scar tissue issues!
The following two tabs change content below.
Amos is the owner and provider at Alexandria Rehabilitation. Amos has vast expertise in traumatic hand injury rehab as well as common repetitive work-related and general injuries.
Latest posts by Amos Hartsell (see all)