If you do a search online with the phrase "carpal tunnel" you will be flooded with information, both accurate and inaccurate. Carpal tunnel has become a rapidly "thrown-around" phrase or diagnosis for hand pain and numbness. However, in my experience as a provider, I have seen more carpal tunnel like symptoms recently–possibly from the use of many mobile devices that we cannot live without. While Carpal Tunnel Syndrome is very popular in the literature that is available online, the searches usually reveal information on signs, symptoms, and how these issues occur. If you dig deeper you will come to information on treatment. Here sites usually have a bulleted list of options, surgery, therapy, bracing, etc…
Great! I know my treatment options. So now what? You can take the route that most people take and wait for it to go away. You can maybe chalk it up to a hard work week or a new activity–I'll wait and my symptoms will subside. More than likely if you are searching for information on carpal tunnel syndrome, this approach has not worked. In fact, if you do more research you will find that the longer you have compression or trauma on a nerve the more damage you can do, which can also lead to permanent damage or numbness. When dealing with nerve compression or irritation it is always smart to seek some kind of treatment early on. The longer the problem persists the more damage is done to the nerve and the more intense treatment that will be needed…also known as surgery.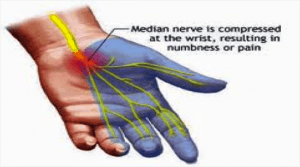 So you look through your treatment options online. What is the next easiest fix, a brace? What type of brace? When do I wear it? How long do I wear it? With so much information online and some of the information conflicting, it is best to seek professional help.
Therapy is a painless way to seek treatment and the proper education you need. Treatment for carpal tunnel from a hand therapy specialist will generate the best results. Treatment may include ultrasound to push out inflammation in the carpal tunnel, proper stretching and soft tissue mobilization techniques to loosen tight tissue causing compression. While therapy treatment in clinic is very beneficial, it is the education and home program you receive that will ensure your symptoms do not return. Education on the proper brace to wear and when to wear it is very important. For example, most people do not realize they should wear it at night as well as during the day. If bracing is not an option and you absolutely need to move your wrist, specialized Kinesio tape and taping techniques can make a significant difference. Ergonomic adjustments, activity modifications and sleep positioning changes will also lead to quicker and proper recovery.
Carpal tunnel syndrome therapy treatment can be very effective with only a few visits. So remember: the longer you wait the more damage you are doing to your nerve and the harder it is to reverse the process of carpal tunnel syndrome. Proper hand therapy and education will make a huge impact on your recovery and can help you avoid the more expensive option of having a surgery.
For questions regarding your specific situation, give me a call at 320.335.2515 and I'd be happy to discuss it with you!
The following two tabs change content below.
Amos is the owner and provider at Alexandria Rehabilitation. Amos has vast expertise in traumatic hand injury rehab as well as common repetitive work-related and general injuries.
Latest posts by Amos Hartsell (see all)