"I am having pain in my finger; I have noticed a click when I open and close my fist; my finger gets stuck when holding something."
These are common comments from people dealing with a trigger finger condition. Symptoms of a trigger finger are sometimes very subtle. The issue can develop over a long course of time with either repetitive gripping activities or a condition/injury that causes chronic inflammation and swelling issues. Although there is evidence that activity does not cause trigger finger, daily use of the hands can aggravate symptoms of a trigger finger. Trigger fingers are also more common in people with diabetes and arthritis. No matter the cause of the triggering, the condition will need to be dealt with, as it progressively worsens over time with daily use.
It is not muscles in the hand that bend the fingers, but tendons. These tendons have a sheath of fibrous tissue that surrounds them. The fibrous tendons pass through a tunnel or pulle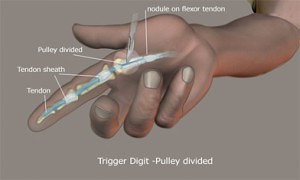 y system at different locations in the hand and finger. Trigger finger is inflammation in the tendon sheath that causes the tendon to not glide effectively through these structures in the hand. This leads to clicking, pain, or difficulty in bending or straightening the finger. Prolonged irritation of the tendon sheath can cause scarring, thickening, and formation of nodules on the tendon. This can cause more pronounced and painful locking and triggering of the finger.
Treatment for a trigger finger may vary, depending on the severity of the condition. Most doctors will prescribe anti-inflammatory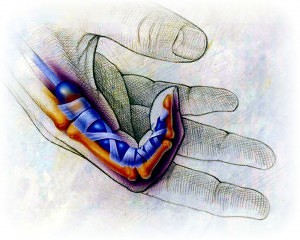 medication. If the condition is more severe, a cortisone injection into the area may be recommended. The provider may also refer the patient to therapy treatment. Depending on the length of time and severity of the symptoms, therapy will help significantly. Choosing a specialized hand therapist in your area will ensure that you receive proper evaluation, treatment, and the best possible outcome with therapy.
Hand therapy treatment for a trigger finger may include:
Proper education on activity modifications for your daily hand use
Custom splinting

A splint is often needed; a skilled therapist will make this splint effective, easily worn, and most importantly functional in order to use your hands.

Modalities

The therapist may choose Ultrasound or other modalities to improve healing and to speed up the course of treatment.

A complete and thorough home program

This will include completing soft tissue massage to certain areas, using heat or cold at the proper times and certain exercises that need proper explanation and training.

Knowing what activities to avoid and how to manage your symptoms will make a huge impact.
Trigger fingers most often develop gradually, but can cause significant deficits and hindrances to your hand function. If you notice early symptoms or have been dealing with them for quite some time, contact your physician or a skilled hand therapist for questions or treatment.
The following two tabs change content below.
Amos is the owner and provider at Alexandria Rehabilitation. Amos has vast expertise in traumatic hand injury rehab as well as common repetitive work-related and general injuries.
Latest posts by Amos Hartsell (see all)