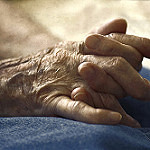 Arthritis is a difficult condition to deal with no matter what part of the body it affects. Dealing with arthritis of the fingers and hand joints can be especially challenging. Not being able to complete the daily tasks that we often take for granted is a frustrating experience. For some people, opening jars, buttoning a shirt, or cutting up food for dinner will be the biggest challenge of their day. Although arthritis cannot be CURED by any means, the symptoms of pain and joint stiffness can improve.
Up-to-date therapy treatments can make a tremendous impact on a person's daily function. Having proper education and a home program can be the difference from turning a horrible arthritis day into a good, productive day.
Arthritis is a break down in the cartilage of the joints. The cushion or lubrication has deteriorated and what you are left with is inflammation of the joints that causes stiffness, pain, weakness, and enlarged joints/knuckles over time. Other than anti-inflammatory medications, most people do not know of the treatment options for arthritis. Often injections are helpful, especially in the base of the thumb, which is the most common joint to be surgically repaired due to arthritis. However, injections are a temporary fix and eventually the medication will wear off. The most effective and long lasting arthritis treatment is done through therapy.
A properly trained therapist can offer the education and treatment to reduce pain and improve functional use of the affected joints. At Alexandria Rehabilitation our therapist offers a complete and thorough treatment approach. We combine an in-depth outpatient treatment focusing on joint mobility, healing and pain reduction using state-of-the-art LASER treatment, paraffin wax heating, manual joint manipulation, and functional custom splinting for the affected joints. Along with the proper treatment in therapy, a specialized home exercise program will allow the patient to maintain the improved function achieved in therapy.