"Holy cats!#!# Son of a Bee Sting!!#! I jammed my finger!"
We have all done this from time to time. We bump and jam and bang our fingers so many times throughout the course of a day, a week or a month that we learn to live with it. Finger injuries are an all too common occurrence. We use our hands for everything throughout the day. It is inevitable that we will cause ourselves some pain from being clumsy, or not paying attention, or just a freak accident while playing sports, etc. I am just like everyone else; I will shake off the initial sting of the incident and go on with my life. Most finger injuries are simple and require some time and a little "babying" to help it get back to normal. What happens when it doesn't? What happens when that insignificant finger injury is still nagging for months? What happens when the finger becomes overly stiff and now I cannot bend it or straighten it all the way?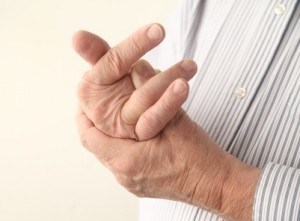 The hand and fingers are able to do so much–they have so much versatility–and the underlying structures are very intricate and complex. When trauma happens to the fingers, the underlying structures can become damaged or stretched out and if they do not heal properly we may be left with a stiff or painful joint. As a hand therapist that has seen a plethora of hand issues, I can safely say that joint stiffness in the fingers is very difficult to deal with. No matter the cause of the incident–whether it is trauma or arthritis progression that causes the finger joint to become stiff–there is still hope for mobility and function.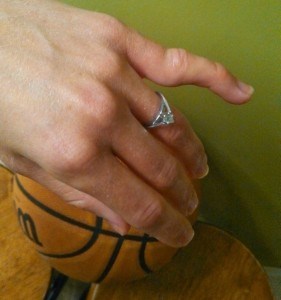 Most people are unaware of what can be done for a finger joint that has been damaged. Just like every injury that occurs, the sooner the matter is approached and treated, the better and more quickly it can be resolved. However, even for those traumatic finger injuries that happened a year or so ago, they can be corrected with the proper treat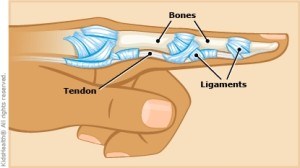 ment. Therapy can help significantly. I am not referring to the typical course of therapy that most people have in mind. Hand therapy for finger injuries is often treated with corrective splinting or bracing and requires few visits. Now I realize that most people think of a splint or brace as limiting, but custom made corrective splints made by a hand therapist are made as small as possible and give you the maximum functional use of the hand. Besides custom splinting, a hand therapist can also offer specific treatment in the clinic that can alleviate pain in the joints and develop a home program with exercises or stretches for the fingers that are not damaging to the recovery process. Just like the fine intricate underlying structures of the hand and fingers, the therapy process must be precise and accurate in order to avoid more scarring or damage to such a small joint. So ask yourself if this nagging hand or finger issue is worth living with or is time to regain more function in the most functional part of your body?
Trust Alexandria Rehabilitation for more precise and accurate therapy care! 320.335.2515
The following two tabs change content below.
Amos is the owner and provider at Alexandria Rehabilitation. Amos has vast expertise in traumatic hand injury rehab as well as common repetitive work-related and general injuries.
Latest posts by Amos Hartsell (see all)